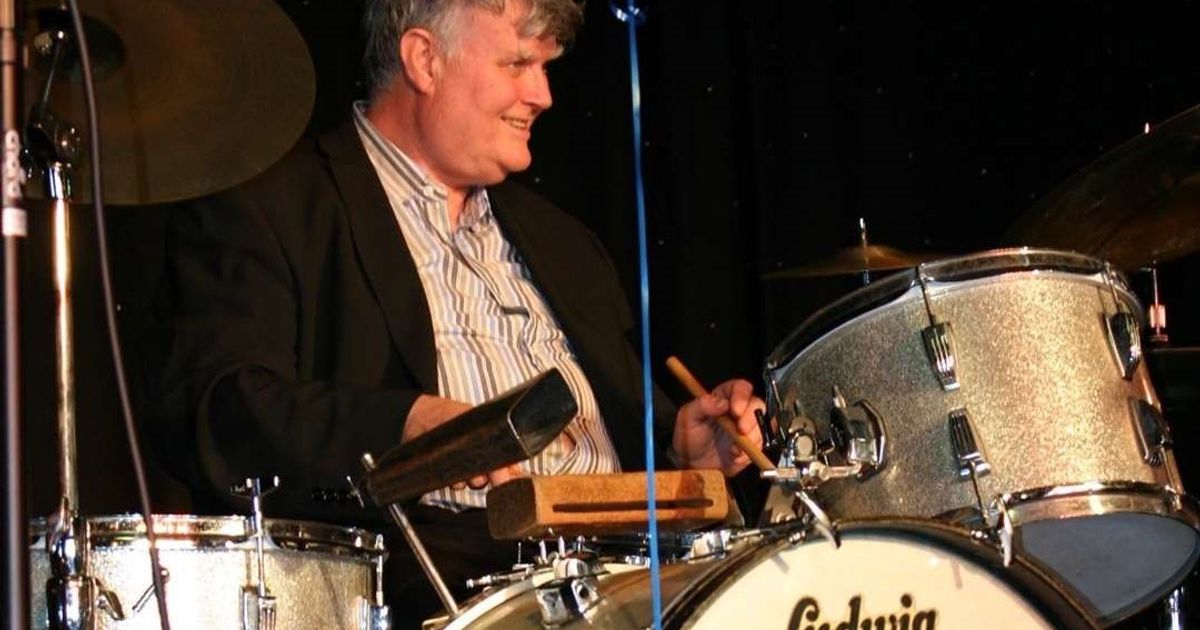 John Petters Presents "NOW YOU HAVE JAZZ" 8pm Every Saturday and also on the 12pm Sunday Rewind
Presents "NOW YOU HAVE JAZZ"
Chilli Jazz radio welcomes John Petters and his new Saturday night Show "Now You Have Jazz"
John was born in Stratford, East London. He was fascinated with music from a very early age and collected 78rpm records, which gave him a wide exposure to music, in particular Jazz. At the age of 13 he became interested in amateur radio and gained his transmitting licence in 1969 with the callsign G3YPZ. He has written for several amateur radio magazines, including Practical Wireless and Radio Communication.
In 1971 he took up drums, teaching himself by playing along with classic Jazz & Swing records. Together with bassist Keith Donald, John gained his first playing experience in local jam sessions organised by drummer Bill Cornell in Bishops Stortford, Herts. He formed his first band while at college in Harlow, Essex.He started gigging in 1976 and met cornetist Ken Sims and clarinettist Dave Bailey. He formed "The New Dixie Syncopators". In November 1977 he recorded his first album, "Red Hot Jazz" for SRT records. The band featured Ken Sims, Ragtime pianist, John Gill, and a young female bass player, Tessa Mellerick, who he married in 1980.
John joined "Ken Sim's Dixie Kings" in 1979 and played a long residency at London's famous "100John Petters Swing Band Club". In 1983 he formed "John Petters' Swing Band" with Julian Stringle and Peter Neighbour, clarinets, John Boumphrey, piano, Derek Winter, vibes, and Tessa Petters, bass. Eddie Blackwell at Essex Radio gave the band a broadcast from which the album "Stealin' Apples" was released. The band played regularly at London's "Royal Festival Hall" and was reviewed in the "London Financial Times.In 1985 John Petters started the "Square Jazz Club" in Harlow, attracting a wide range of guest musicians from the UK and USA. Those who played include Slim Gaillard, Al Casey, Wild Bill Davison, Art Hodes, Yank Lawson and Kenny Davern from the USA. Georgie Fame,George Chisholm OBE,Maxine Daniels, KenColyer, Cy Laurie, Monty Sunshine, Humphrey Lyttelton and Terry Lightfoot from the UK.985 was the beginning of his serious recording career, recording with Kenny Davern, Humphrey Lyttelton, Wally Fawkes and Al Casey.
John Petters He wrote a three part series on the History of Jazz Drumming, from New Orleans to Be-Bop for the world famous "Jazz Journal International". In 1986 he was commissioned by George H Buck of "Jazzology Records", New Orleans, to record the album "Mixed Salad", which was produced by veteran British Jazz producer James Asman. He recorded the album "Makin' Whoopee" with Yank Lawson. He then started a long association with the "Casa Bar Jazz Spot", Zurich. He also played Paris Jazz venues, "Caveau de la Huchette" & "The Slow Club".In 1987 John Petters designed his first Jazz Theatre show with the valuable help and advice of agentJohn Petters Band with Al Casey
and promoter Martin K Ross, "Queens of the Blues", which marked the 50th Anniversary of the death of Bessie Smith. The show featured Beryl Bryden, Rusty Taylor and Helen Gould with his six piece band. The show played theatres all over the UK and such major festivals as Cork and Northsea. He met and recorded with Chicago piano legend Art Hodes.In 1988, John was asked to put a band together for the "Cork Festival" by Wild Bill Davison. He had the idea of teaming Bill and the great Blues pianist Art Hodes. The band played the Cork Opera house to a capacity audience.
The "John Petters Dixie Marching Band" appeared forOn Board The Canberra ten days at the "City of London Festival", then joined the Jazz Cruise to the Mediterranean on board the P&O Canberra, appearing alongside Georgie Fame.
In May 1989 "The Legends of American Dixieland" toured 15 dates back to back in Great Britain and Northern Ireland, many of which were digitally recorded. Sadly the tour proved to be the last visit to these shores by both these great artistes - Wild Bill died inNovember 1989 and Art died a few years after.
In 1989 John started work on a show to mark George Chisholm's 75th birthday. Maxine Daniels was the featured vocalist and "Swinging Down Memory Lane" toured until 1992 when Chis was forced to retire due to ill health. The same year John appeared on a TVS chat show with George Melly.
The "John Petters' Roarin' 20s Jazz Band" was seen by millions on BBC TV providing the music for the London Marathon.n 1991 the "Legends of British Trad" was premiered at London's "Queen Elizabeth Hall" and toured until 1994. The handpicked band featured Alan Elsdon : trumpet, Dick Charlesworth : clarinet, Campbell Burnap : trombone, Neville Dickie : piano and Tim Phillips : bass.
Along with bandleaders Chez Chesterman and Max Collie, the National Traditional Jazz Mailing List was formed to keep in touch with the audience and to help keep the music live.
1993 marked the 50th anniversary of Fats Waller's untimely death and "This Joint Is Jumpin" toured to sell-out theatres throughout the next two years, (review). The band, known as "John Petters & his Rhythm" featured Neville Dickie, piano, Cuff Billet, trumpet, Goff Dubber, reeds, and Mickey Ashman, bass.
In 1994 the late and much missed stride pianist Duncan Swift took the piano chair. 1993 was the year when the first "Louis Armstrong Memorial Riverboat Shuffles" were launched. These now run at many places up and down the UK each year. 1994 saw the launch of "Boogie Woogie & All That Jazz" with Duncan Swift & Tim Phillips joining John. This show told the story of Jazz piano from Ragtime up to Swing.
In 1995 John organised the first Jazz festival at Wisbech and launched the Gospel Show "Walkin' With the King" which featured Tuba Fats and Lady Linda Young from New Orleans.
The first weekend break at Mundesley Holiday Centre in Norfolk was held in November and was highly successful.
During 1996 John put together "Drum Crazy" which told the story of Jazz drumming from New Orleans to Be-Bop and beyond. Together with drummer Graeme (who did the 'modern' bits) the show offered workshops as well as the theatre performance and gave John the opportunity to salute Gene Krupa with a small group performance of "Sing Sing Sing" as well as an extended drum battle with Graeme Culham.
Following the success of the Mundesley Festival, he was approached by Pontins to become involved with the "Blackpool Jazz & Big Band Festival". With his skill at programming and marketing through the National Traditional Jazz Mailing List Members, the event sold out in 1996 and 1997.
Traditional Jazz 'n' Swing Forums followed at Barton Hall, Devon, The Sands Hotel, Prestatyn and Southdowns Holiday Centre. Pontins asked John to re-design the failing "Pakefield Festival" on the East Coast. Re-launching the event as "Now You Has Jazz Jazz Jazz" and featuring a first class array of great Jazz artistes the Festival sold out.
1998 saw the launch of "S'wonderful" - the life and music of George Gershwin. This featured a talented young multi instrumentalist, Nick Dawson, whose singing voice was likened to "the young Sinatra" by BBC Radio Presenter John Richards. The show continued to tour until November 1999.
1999 celebrated the centenary of the great Hoagy Carmichael. "Hoagy the Old Music Master" which reunited John Petters with Ken Sims and Dave Bailey, achieved great success at theatres all over the UK.
Goin' BananasThe band reconvened to record "Goin' Bananas" a no holds barred jazz CD, which has received great critical acclaim, (click here to read a review). The CD "Very Live at Pakefield", featuring Sammy imington, was recorded at the 1999 Pakefield Festival, and became one of the top selling Jazz CDs. George H Buck released the CD "Wild Bill Davison - Art Hodes Coalition" JCD221 to mark the 50th anniversary of Jazzology Records.
This album was recorded during the 1989 tour of the "Legends of American Dixieland".
The Spring of 2000 saw the launch of the first "Traditional Jazz 'n' Swing Forum" in Scarborough, which sold out, and the summer brought capacity attendances at Bracklesham Bay for the "Louis Armstrong Centenary Festival" in June.
The Spring of 2000 saw the launch of the first "Traditional Jazz 'n' Swing Forum" in Scarborough, which sold out, and the summer has seen near capacity attendances at Bracklesham Bay for the "Louis Armstrong Centenary Festival" in June and the "Traditional Jazz 'n' Swing Forum" in September. At "Potters Leisure Resort" at Hopton on Sea, Norfolk, a great weekend was enjoyed by both Jazz and bowls fans alike.
Two Mundesley weekends in November and December 2000 sold out as did the Brighton "Now You Has Jazz Jazz Jazz Festival". Two CDs were recorded in 2000 - "Eye to Eye" with "The Annie Hawkins - Dave Bailey New Orleans Quartet" and "Flamingo"the debut album by Trevor Whiting. November 2000 found John leading the "Sammy Rimington / John Petters New Orleans All Stars" on a nationwide tour.
2001 saw the sell outs repeated at Pontins Pakefield and Scarborough in March, also at Mundesley in November and December, South Downs, and very strong crowds at Blackpool.
Down In Honky Tonk TownA new CD "Down in Honky Tonk Town" by "The Sammy Rimington - John Petters New Orleans All Stars" was released at the beginning of March, and a Benny Goodman Trinute, called "Stompin' at the Savoy" by the John Petters Trio with Trevor Whiting and Nick Dawson.
Petters Trio with Trevor Whiting and Nick Dawson.
John next found himself working with the unique and exiting Pete Allen for their recording "Havin' Fun" by the Pete Allen - John Petters Hot Four (also with Dawson and Keith Donald, bass).
Early April 2002 saw John go on to record the CD "Keepin' Out of Mischief" with Cuff Billett, Trevor Whiting, Nick Dawson, Andy Kuc and Keith Donald.
2003 saw the launch of a show to celebrate the life of Bing Crosby on his centenary -"Bing - The Road To Rhythm and Romance". The CD to accompany the show was issued as well as a session featuring an all star band, with arrangements by Martin Litton and featuring James Evans, Trevor Whiting and bassist, John Day.
Another session comprising, Cuff Billett, Mike Pointon, James Evans, Martin Litton, Tim Phillips, Keith Donald & John Petters recorded the album "Tailgate Ramble - A Salute to Kid Ory".
2004 saw the launch of Swinging Down Memory Lane ll with Nick Dawson, Val Wiseman, James Evans and Keith Donald, which continues to tour.
The father of British Jazz, the legendary 86 year-old George Webb appeared with John's band at St John's Arts Centre. The session was recorded and issued as An Evening with George Webb & John Petters Hot Five. This important release was George's first recording since 1951.
Another session, Heah Me Talkin' - a Tribute to Johnny Dodds, featuring John Wurr, Chez Chesterman, Martin Litton and Annie Hawkins was recorded at Long Sutton and issued.
2005 has seen successful festivals at Scarborough in February and Pakefield in March where 624 fans had a great time. 'S Wonderful Vol ll was recorded in January and the show played Sevenoaks Playhouse to a very good house. Swinging Down Memory Lane Played Harlow Playhouse on April 1st to a packed house, and Bing - Road to Rhythm and Romance played Hemsley Arts Centre on 2nd April.
In 2006, Simply Sinatra was launched and the CD of the show released. Regular monthly sessions at St John's Arts Centre, Old Harlow continued to attract good audiences. Pakefield, Bracklesham and The moorside Grange Hotel in Derbyshire produced some great festival music. The band played at the Upton Upon Severn Festival. 2007, Festivals at Pakefield Scarborough & Bracklesham have been successful so far. Swinging Down Memory Lane has been touring and producing good box office attendances. Simply Sinatra sold out at the Queens Theatre, Hornchurch, two months ahead of its July date. The CD Sing Sing Sing was recorded with John Petters Swing Band and will be released in November. Regular monthly sessions at St John's Arts Centre, Old Harlow continue to attract good audiences.